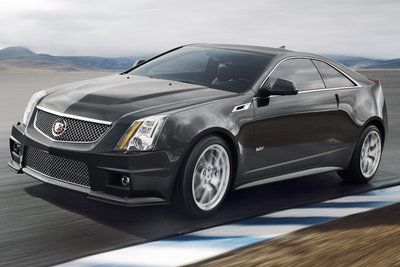 At a Glance
| | |
| --- | --- |
| Pricing | $38,365 - $63,660 |
| Drive Types | RWD, AWD |
| Engines | 3.6l V6, 6.2l V8 S |
| Transmissions | A6, M6 |
| Fuel Economy | 12-18 (city), 18-27 (highway) |
Overview Information
The BMW 3-Series is considered a benchmark in the compact luxury market. Like BMW, many automakers choose to add incremental sales with new body styles. The new Cadillac CTS coupe joined the well-regarded sedan and sport wagon models for the 2011 model year. The CTS Coupe features 2+2 seating for four passengers. A standard 3.6L V6 engine is offered with six-speed manual and automatic transmissions. Both rear-wheel-drive and all-wheel-drive models are available. For ultimate bragging rights, the high-performance CTS-V packs a 556-bhp supercharged V8 motor under the hood. Like the sedan, the CTS coupe is larger on the outside than the BMW 3-Series and Infiniti G, its two closest competitors.
What Changed:
Cadillac adds a coupe variant of the CTS for the 2011 model year. The two-door, four passenger coupe joins the sedan and wagon versions. Compared to the sedan, the coupe is shorter and wider. Power for most CTS coupes is provided by a standard 3.6L V6 engine. Both rear-wheel-drive and all-wheel-drive are offered. The high-performance CTS-V version is powered by a 556-bhp supercharged V8. The CTS-V also includes magnetic ride control and Brembo brakes.
Official Word:
Cadillac has unveiled the 2011 CTS Coupe, the latest and most dramatic of the brand's series of new designs to reach production. Arriving in Cadillac showrooms in August 2010, the CTS Coupe is a new luxury sports coupe designed to become the centerpiece of the brand's revised lineup. "CTS Coupe is the new focal point of Cadillac, expressing both our design and technical capabilities," said Don Butler, Vice President - Cadillac Marketing. "It is intended to...Read.
| Model/Trim/Package | Engine | | | MPG | VjI | Base Price |
| --- | --- | --- | --- | --- | --- | --- |
| CTS Coupe 1SH Premium | 3.6l V6 (304-bhp) | M6 | RWD | 16/25/20 | | TBD |
| CTS Coupe 1SB | 3.6l V6 (304-bhp) | A6 | RWD | 18/27/22 | | $38,365 |
| CTS Coupe 1SB | 3.6l V6 (304-bhp) | A6 | AWD | 18/27/22 | | $40,265 |
| CTS Coupe 1SF Performance | 3.6l V6 (304-bhp) | A6 | RWD | 18/27/22 | | $42,805 |
| CTS Coupe 1SF Performance | 3.6l V6 (304-bhp) | M6 | RWD | 16/25/20 | | $43,345 |
| CTS Coupe 1SF Performance | 3.6l V6 (304-bhp) | A6 | AWD | 18/27/22 | | $44,705 |
| CTS Coupe 1SH Premium | 3.6l V6 (304-bhp) | A6 | RWD | 18/27/22 | | $47,210 |
| CTS Coupe 1SH Premium | 3.6l V6 (304-bhp) | A6 | AWD | 18/27/22 | | $49,110 |
| CTS-V 1SV | 6.2l V8 S (556-bhp) | M6 | RWD | 14/19/16 | | $62,360 |
| CTS-V 1SV | 6.2l V8 S (556-bhp) | A6 | RWD | 12/18/15 | | $63,660 |
Comparisons
Videos
Model History