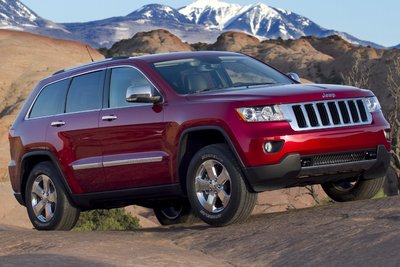 At a Glance
| | |
| --- | --- |
| Pricing | $30,215 - $42,615 |
| Drive Types | RWD, AWD |
| Engines | 3.6l V6, 5.7l V8 |
| Transmissions | A5 |
| Fuel Economy | 13-16 (city), 19-23 (highway) |
Our Ratings
Overview Information
The Jeep Grand Cherokee like the Ford Explorer once dominated the sales charts for SUVs. When buyers moved on to larger SUVs, the Jeep Grand Cherokee stuck to its off-road pedigree and five-passenger seating. Due to Chrysler's former relationship with Mercedes-Benz, the latest Grand Cherokee is the most upscale model to bear the name. The Grand Cherokee comes in three basic grades with a choice of two engines. The base engine is a new 3.6l V6 rated at 290-bhp with a 5.7l V8 optional. Buyers looking for three rows of seating can consider the Dodge Durango, which is now closely related to the Jeep Grand Cherokee.
What Changed:
The Jeep Grand Cherokee is all new for 2011. The new model is longer and wider. Its platform has a longer wheelbase and wider track. Although the interior is more spacious, the Grand Cherokee retains its two-row seating for five passengers. A new 3.6l V6 engine is appearing in most Chrysler vehicles for 2011. In the Jeep, it is rated at 290-bhp. A 5.7l V8 is optional. The diesel six-cylinder model and 6.1l V8 performance model have been dropped.
Official Word:
The all-new 2011 Jeep Grand Cherokee made its world debut today at the New York International Auto Show. Jeep's all-new premium SUV features an athletic design, an all-new world-class interior, an all-new engine and legendary Jeep capability. Nearly 18 years ago, Jeep invented the premium SUV segment with the introduction of the Jeep Grand Cherokee. More than 4 million sales later, Jeep improves the formula and hits the sweet spot of real-world capability and on-road refinement...Read.
| Model/Trim/Package | Engine | | | MPG | VjI | Base Price |
| --- | --- | --- | --- | --- | --- | --- |
| Grand Cherokee Laredo | 3.6l V6 (290-bhp) | A5 | RWD | 16/23/19 | 43 | $30,215 |
| Grand Cherokee Laredo | 3.6l V6 (290-bhp) | A5 | AWD | 16/22/19 | 40 | $32,215 |
| Grand Cherokee Laredo X | 3.6l V6 (290-bhp) | A5 | RWD | 16/23/19 | 46 | $34,215 |
| Grand Cherokee Laredo X | 5.7l V8 (360-bhp) | A5 | RWD | 14/20/17 | 52 | $35,710 |
| Grand Cherokee Laredo X | 3.6l V6 (290-bhp) | A5 | AWD | 16/22/19 | 43 | $36,215 |
| Grand Cherokee Laredo X | 5.7l V8 (360-bhp) | A5 | AWD | 13/19/16 | 49 | $37,710 |
| Grand Cherokee Limited | 3.6l V6 (290-bhp) | A5 | RWD | 16/23/19 | 46 | $36,320 |
| Grand Cherokee Limited | 5.7l V8 (360-bhp) | A5 | RWD | 14/20/17 | 52 | $37,815 |
| Grand Cherokee Overland | 3.6l V6 (290-bhp) | A5 | RWD | 16/23/19 | 49 | $38,715 |
| Grand Cherokee Limited | 3.6l V6 (290-bhp) | A5 | AWD | 16/22/19 | 43 | $38,820 |
| Grand Cherokee Limited | 5.7l V8 (360-bhp) | A5 | AWD | 13/19/16 | 44 | $40,315 |
| Grand Cherokee Overland | 3.6l V6 (290-bhp) | A5 | AWD | 16/22/19 | 46 | $41,120 |
| Grand Cherokee Overland | 5.7l V8 (360-bhp) | A5 | RWD | 14/20/17 | 55 | $40,210 |
| Grand Cherokee Overland | 5.7l V8 (360-bhp) | A5 | AWD | 13/19/16 | 47 | $42,615 |
Comparisons
Reviews
Videos
Model History