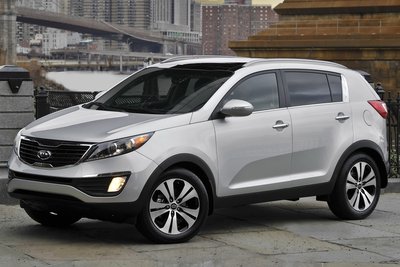 At a Glance
| | |
| --- | --- |
| Pricing | $18,995 - $30,295 |
| Drive Types | FWD, AWD |
| Engines | 2.0l I4 T, 2.4l I4 |
| Transmissions | A6, M6 |
| Fuel Economy | 21-22 (city), 25-31 (highway) |
Our Ratings
Overview Information
The Sportage is Kia's entry-level compact SUV vehicle. Where the original Sportage was a body-on-frame truck-based SUV, the modern Sportage is stylish crossover vehicle that compares favorably to a wide range of vehicles from the Honda CR-V to the Chevrolet Equinox. Available in FWD and AWD configurations, Sportage LX and EX models are powered by a 2.4l 4-cylinder engine mated to a six-speed automatic transmission. Sportage SX models equip 2.0l turbocharged four-cylinder for a serious bump in power to 256-bhp. The Sportage is unmatched in style with a distinctive look that is unmistakable for other vehicles. Vehicles in this segment offer a fair amount of utility for the money. The rear seats fold flat creating a long load floor. Priced from $19,000, the Sportage is also a good value.
What Changed:
All new for 2011, the Sportage has dramatic new styling. The new model is longer and wider than its predecessor. A 2.4l four-cylinder engine is now the standard powertrain. Teamed with six-speed manual and automatic transmissions, the fuel economy of the new model improves significantly. The SX performance model is powered by a turbocharged 2.0l four-cylinder rated at 256-bhp.
Official Word:
On the heels of its 2011 International Truck of the Year recognition by ICOTY jurors, Kia Motors America (KMA) today announced the launch of the all-new 2011 Sportage SX compact CUV, scheduled to arrive in dealer showrooms later this month. As part of Kia's design-led transformation, the Sportage has become a strong player within the Kia line-up, offering power and class-leading fuel economy1. SX models take a solid foundation and up the ante with a more...Read.
| Model/Trim/Package | Engine | | | MPG | VjI | Base Price |
| --- | --- | --- | --- | --- | --- | --- |
| Sportage | 2.4l I4 (176-bhp) | M6 | FWD | 21/29/25 | 48 | $18,995 |
| Sportage LX | 2.4l I4 (176-bhp) | A6 | FWD | 22/31/26 | 48 | $20,295 |
| Sportage LX | 2.4l I4 (176-bhp) | A6 | AWD | 21/28/24 | 48 | $21,795 |
| Sportage EX | 2.4l I4 (176-bhp) | A6 | FWD | 22/31/26 | 51 | $23,295 |
| Sportage EX | 2.4l I4 (176-bhp) | A6 | AWD | 21/28/24 | 51 | $24,795 |
| Sportage EX Premium w/ Leather | 2.4l I4 (176-bhp) | A6 | FWD | 22/31/26 | 51 | $26,295 |
| Sportage EX Premium w/ Leather | 2.4l I4 (176-bhp) | A6 | AWD | 21/28/24 | 51 | $27,795 |
| Sportage SX | 2.0l I4 T (256-bhp) | A6 | FWD | 22/27/24 | 59 | $25,795 |
| Sportage SX | 2.0l I4 T (256-bhp) | A6 | AWD | 21/25/23 | 55 | $27,295 |
| Sportage SX Premium w/ Leather | 2.0l I4 T (256-bhp) | A6 | FWD | 22/27/24 | 59 | $28,795 |
| Sportage SX Premium w/ Leather | 2.0l I4 T (256-bhp) | A6 | AWD | 21/25/23 | 55 | $30,295 |
Comparisons
Reviews
Videos
Model History