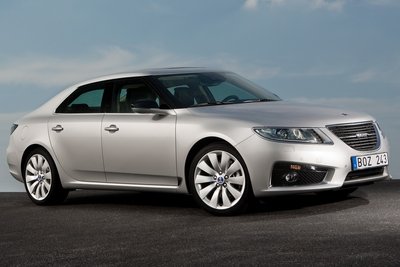 At a Glance
| | |
| --- | --- |
| Pricing | $38,525 - $49,565 |
| Drive Types | FWD, AWD |
| Engines | 2.0l I4 T, 2.8l V6 T |
| Transmissions | A6, M6 |
| Fuel Economy | 17 (city), 27 (highway) |
Our Ratings
Overview Information
The latest Saab 9-5 is the king pin in Saab's turnabout from near death to new company. The sleekly styled new model arrived just as General Motors sought to unload Saab and it will serve as Saab's most up to date car model until its new owners can develop a range of new products. General Motors developed the 9-5 and it therefore shares a platform and technology with other GM products like the Buick LaCrosse. Saab offers the 9-5 in the U.S. with a choice of two powertrains. Front wheel drive models equip a turbocharged four-cylinder engine, whereas the all-wheel-drive (Saab calls it XWD) models include a more powerful turbocharged six cylinder. The 9-5 includes a healthy list of standard equipment like heated leather seats, dual-zone climate control, and keyless operation. With prices starting at around $40,000 and ranging to $60,000, the 9-5 is priced to compete with more established models like the Audi A6, Mercedes E-Class and Lexus GS.
What Changed:
After a short introductory run for th 2010 model year, the 9-5 lineup expands with additional powertrain and equipment options. A 2.0l turbocharged four cylinder becomes the new base engine on front-wheel-drive models.
Official Word:
Just three months after its launch, the appeal of the new Saab 9-5 sedan is significantly broadened by the introduction of three new engines, doubling the size of the powertrain menu. For Model Year 2011, a 190 hp/140 kW, 2.0-liter turbo diesel makes Saab XWD, the widely-acclaimed all-wheel-drive system, available for the first time with compression ignition. Using two-stage turbocharging, this new engine combines strong performance with impressive frugality and joins the current 160 hp/118 kW,...Read.
| Model/Trim/Package | Engine | | | MPG | VjI | Base Price |
| --- | --- | --- | --- | --- | --- | --- |
| 9-5 Turbo4 | 2.0l I4 T (220-bhp) | M6 | FWD | | 52 | $38,525 |
| 9-5 Turbo4 | 2.0l I4 T (220-bhp) | A6 | FWD | | 52 | $39,875 |
| 9-5 Turbo4 Premium | 2.0l I4 T (220-bhp) | A6 | FWD | | 55 | $43,435 |
| 9-5 Turbo6 | 2.8l V6 T (300-bhp) | A6 | AWD | 17/27/22 | 59 | $48,030 |
| 9-5 Turbo6 Aero | 2.8l V6 T (300-bhp) | A6 | AWD | 17/27/22 | 59 | $49,565 |
Comparisons
Reviews
Videos
Model History