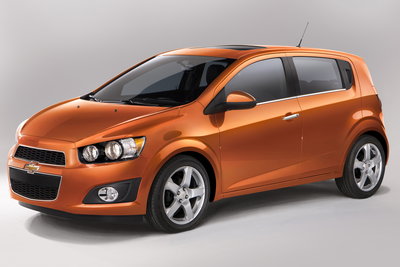 At a Glance
| | |
| --- | --- |
| Pricing | $14,765 - $19,325 |
| Drive Types | FWD |
| Engines | 1.4l I4 T, 1.8l I4 |
| Transmissions | A6, M5, M6 |
| Fuel Economy | 25-29 (city), 35-40 (highway) |
Our Ratings
Overview Information
The Chevrolet Sonic replaces the Korean-built Aveo in the lineup. Like many automakers, Chevrolet offers two vehicles in the compact segment. Chevrolet positions the significantly larger and more expensive Cruze as a premium compact leaving room for the Sonic as a value-oriented alternative. In terms of competitive vehicles, the Sonic sedan is larger than the Toyota Yaris, and Ford Fiesta, but smaller than the Nissan Versa. The Sonic shares its powertrains with its larger sibling the Cruze. Buyers can opt for either a 1.8l four-cylinder engine or a turbocharged 1.4l with similar output. Even though the Sonic touts a low starting price, it does so by omitting common equipment like power windows, power mirrors, and cruise control and rear disc brakes. There are competitive vehicles in the class that offer this equipment in similarly priced vehicles.
What Changed:
The new Sonic replaces the Aveo in Chevrolet's lineup. Although identical to the next generation Aveo sold worldwide, the US version was renamed Sonic and is built in America. Compared to the Cruze sedan, the 5-door hatch is about 6 inches shorter in wheelbase and 2 inches narrower. Like the Cruze, the Sonic is offered with either a 1.8l four-cylinder engine or a turbocharged 1.4l. Both engines have similar output.
Official Word:
The all-new 2012 Sonic is a small car with a large array of amenities. It is offered in two body styles: a four-door sedan and a five-door, each with distinctive design elements, including motorcycle-inspired round headlamps. Sonic also delivers class-leading rear-seat roominess and connectivity features that enhance the driving experience. The Sonic is equipped with power-dense four-cylinder engines, including an Ecotec 1.4L turbo, and it is designed to be one of the safest vehicles in the...Read.
| Model/Trim/Package | Engine | | | MPG | VjI | Base Price |
| --- | --- | --- | --- | --- | --- | --- |
| Sonic 5d LS | 1.8l I4 (138-bhp) | M5 | FWD | 26/35/30 | 44 | $14,765 |
| Sonic 5d LS | 1.8l I4 (138-bhp) | A6 | FWD | 25/35/30 | 44 | $15,835 |
| Sonic 5d LT | 1.8l I4 (138-bhp) | M5 | FWD | 26/35/30 | 44 | $15,865 |
| Sonic 5d LT | 1.4l I4 T (138-bhp) | M6 | FWD | 29/40/34 | 46 | $16,565 |
| Sonic 5d LT | 1.8l I4 (138-bhp) | A6 | FWD | 25/35/30 | 44 | $16,935 |
| Sonic 5d LT | 1.4l I4 T (138-bhp) | A6 | FWD | | 46 | $17,635 |
| Sonic 5d LTZ | 1.8l I4 (138-bhp) | M5 | FWD | 26/35/30 | 50 | $17,365 |
| Sonic 5d LTZ | 1.4l I4 T (138-bhp) | M6 | FWD | 29/40/34 | 52 | $18,065 |
| Sonic 5d LTZ | 1.8l I4 (138-bhp) | A6 | FWD | 25/35/30 | 50 | $18,625 |
| Sonic 5d LTZ | 1.4l I4 T (138-bhp) | A6 | FWD | | 52 | $19,325 |
Comparisons
Videos
Model History