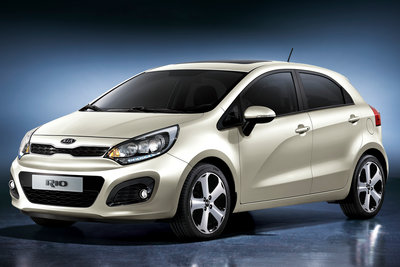 At a Glance
| | |
| --- | --- |
| Pricing | $13,600 - $19,900 |
| Drive Types | FWD |
| Engines | 1.6l I4 |
| Transmissions | A6, M6 |
| Fuel Economy | 28-29 (city), 36-37 (highway) |
Our Ratings
Overview Information
The Rio is a small front-wheel-drive car that serves as Kia's entry-level model in the United States. Available in a four-door sedan and a 5-door hatch, the Rio uses its smaller proportions and advanced powertrain technologies to achieve fuel economy ratings of up to 29/37. Similar in size to the Ford Fiesta and Chevrolet Sonic, the Rio 5-door is over 10 inches shorter than Kia's next model, the Forte. Like other models in the segment, the Rio advertises a low starting price, but omits common conveniences. The Rio does however include 4-wheel disc brakes on all models, which are commonly omitted in this segment to save cost. The Rio EX with the optional Convenience package includes all power equipment, the UVO infotainment system, alloy wheels, and a backup camera for about $18,000. The handsomely styled Rio may be one of the best values on the market.
What Changed:
The 2012 Rio is the third generation of Kia's smallest car in the US market. The Rio has grown by some 3 inches in length, and 1 inch in width. A new 1.6l four cylinder engine rated at 138-bhp powers all models. Then new engine is teamed with new six speed manual and automatic transmissions for increased fuel economy. The Rio is offered in LX, EX and SX trim levels.
Official Word:
With all-new ISG technology, class-leading horsepower and fuel economy of up to 40 miles per gallon, the all-new 2012 Rio 5-door hatchback and Rio sedan will soon join the Kia Motors America (KMA) lineup and offer style and environmentally conscious consumers eye-catching design, impressive fuel efficiency, cutting edge technology and fun-to-drive performance. Unveiled at the 2011 Geneva Motor Show and 2011 New York International Auto Show, respectively, the sub-compacts are the latest introduction in Kia's aggressive...Read.
| Model/Trim/Package | Engine | | | MPG | VjI | Base Price |
| --- | --- | --- | --- | --- | --- | --- |
| Rio 5-door LX | 1.6l I4 (138-bhp) | M6 | FWD | 29/37/33 | 49 | $13,600 |
| Rio 5-door LX | 1.6l I4 (138-bhp) | A6 | FWD | 28/36/32 | 49 | $14,700 |
| Rio 5-door LX Power | 1.6l I4 (138-bhp) | A6 | FWD | 28/36/32 | 49 | $15,700 |
| Rio 5-door EX | 1.6l I4 (138-bhp) | A6 | FWD | 28/36/32 | 49 | $16,500 |
| Rio 5-door EX Convenience | 1.6l I4 (138-bhp) | A6 | FWD | 28/36/32 | 49 | $17,500 |
| Rio 5-door SX | 1.6l I4 (138-bhp) | A6 | FWD | 28/36/32 | 55 | $17,700 |
| Rio 5-door SX Premium | 1.6l I4 (138-bhp) | A6 | FWD | 28/36/32 | 55 | $19,900 |
Comparisons
Reviews
Videos
Model History