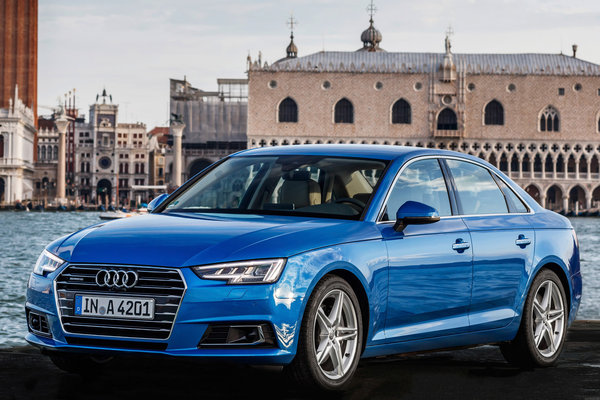 At a Glance
| | |
| --- | --- |
| Pricing | $37,300 - $48,000 |
| Drive Types | FWD, AWD |
| Engines | 2.0l I4 T |
| Transmissions | M6, SM7 |
| Fuel Economy | 24-25 (city), 31-33 (highway) |
Our Ratings
| | |
| --- | --- |
| Velocity Index | 75 |
| Style | |
| Utility | |
| Livability | |
| Value | |
| Fun | |
Overview Information
The A4 sedan is the heart of the Audi lineup. The A4 is available in a number of driveline configurations including 4-cylinder, FWD and AWD. All versions include Audi's decidedly German combination of handsome styling and mechanical prowess. The turbocharged four-cylinder engine offers a lot of performance for the money.
What Changed:
The A4 was redesigned for 2017. Subtle styling changes are wrapped around a car that changes only slightly in size. Mechanical changes include a new 7-speed dual-clutch transmission and a 2.0l turbocharged four-cylinder engine rated at 252-bhp. The A4 is offered in FWD and quattro AWD models. The S4 model will return for the 2018 model year.
Official Word:
As the bestselling model in Audi history, the all-new 2017 A4, with innovative design and advanced technologies, sets a new benchmark for the luxury sedan segment. Boasting class-leading horsepower, confidence inspiring driving dynamics, as well as available driver assistance and infotainment systems, the A4 represents the best in every detail from Audi and exceeds the exceptional standards that have become synonymous with the four rings. 2017 Audi A4 From the redeveloped engine to the available Audi...Read.
| Model/Trim/Package | EL | Engine | | | MPG | VjI | Base Price |
| --- | --- | --- | --- | --- | --- | --- | --- |
| A4 Sedan Premium | | 2.0l I4 T (252-bhp) | SM7 | FWD | 25/33/29 | 67 | $37,300 |
| A4 Sedan Premium | | 2.0l I4 T (252-bhp) | SM7 | AWD | 24/31/27 | 73 | $39,400 |
| A4 Sedan Premium | | 2.0l I4 T (252-bhp) | M6 | AWD | 24/33/28 | 73 | $39,400 |
| A4 Sedan Premium Plus | | 2.0l I4 T (252-bhp) | SM7 | FWD | 25/33/29 | 69 | $41,100 |
| A4 Sedan Premium Plus | | 2.0l I4 T (252-bhp) | SM7 | AWD | 24/31/27 | 75 | $43,200 |
| A4 Sedan Premium Plus | | 2.0l I4 T (252-bhp) | M6 | AWD | 24/33/28 | 75 | $43,200 |
| A4 Sedan Prestige | | 2.0l I4 T (252-bhp) | SM7 | FWD | 25/33/29 | 69 | $45,900 |
| A4 Sedan Prestige | | 2.0l I4 T (252-bhp) | SM7 | AWD | 24/31/27 | 75 | $48,000 |
| A4 Sedan Prestige | | 2.0l I4 T (252-bhp) | M6 | AWD | 24/33/28 | 75 | $48,000 |
Similar Vehicles