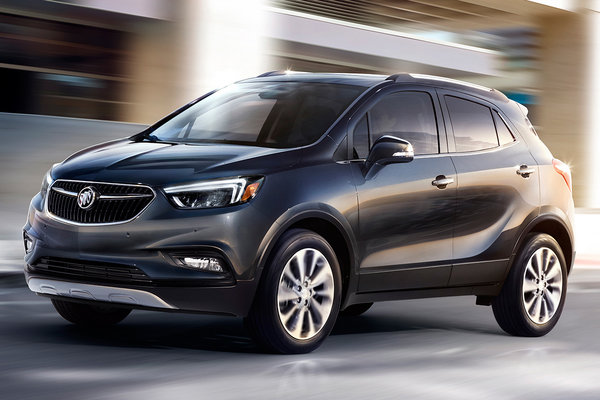 At a Glance
| | |
| --- | --- |
| Pricing | $22,990 - $31,965 |
| Drive Types | FWD, AWD |
| Engines | 1.4l I4 T |
| Transmissions | A6 |
| Fuel Economy | 24-27 (city), 30-33 (highway) |
Our Ratings
Overview Information
The Encore is a small five-passenger, entry-level luxury SUV from Buick. At just 168 inches long outside, the Encore has a passenger compartment that is roughly equivalent to that of their smallest sedan, the Verano. Compared to other small SUVs, the Encore is a notch down in size from popular models like the Honda CR-V or Ford Escape. Power is provided by a small 1.4l turbocharged four-cylinder engine. Buick offers both FWD and AWD models with a six-speed automatic transmission standard. As an entry-level luxury vehicle, the Encore's feature list includes optional leather seating, a power-operated driver's seat, dual-zone climate control, and a Bose sound system. The Encore also includes an active noise cancellation system to help quiet the ride.
What Changed:
The 2017 Encore has revised front styling and an updated interior.
Official Word:
Buick today introduced the new 2017 Encore, strengthening the appeal of America's most popular small SUV with more refined styling and new connectivity technology - including available Apple CarPlay and Android Auto compatibility. A new front-end appearance and a new premium interior highlight the visual refinements, while Apple CarPlay and Android Auto are supported by a next-generation IntelliLink system featuring an 8-inch-diagonal color touch screen. Push-button start, keyless unlock via the exterior door handles and an...Read.
| Model/Trim/Package | Engine | | | MPG | VjI | Base Price |
| --- | --- | --- | --- | --- | --- | --- |
| Encore | 1.4l I4 T (138-bhp) | A6 | FWD | 27/33/30 | 40 | $22,990 |
| Encore Preferred | 1.4l I4 T (138-bhp) | A6 | FWD | 27/33/30 | 40 | $24,365 |
| Encore Sport Touring | 1.4l I4 T (138-bhp) | A6 | FWD | 27/33/30 | 40 | $25,565 |
| Encore Sport Touring | 1.4l I4 T (153-bhp) | A6 | FWD | 25/33/29 | 42 | $25,565 |
| Encore Preferred II | 1.4l I4 T (138-bhp) | A6 | FWD | 27/33/30 | 40 | $26,865 |
| Encore Preferred II | 1.4l I4 T (153-bhp) | A6 | FWD | 25/33/29 | 42 | $26,865 |
| Encore Essence | 1.4l I4 T (138-bhp) | A6 | FWD | 27/33/30 | 40 | $29,065 |
| Encore Essence | 1.4l I4 T (153-bhp) | A6 | FWD | 25/33/29 | 42 | $29,065 |
| Encore Premium | 1.4l I4 T (138-bhp) | A6 | FWD | 27/33/30 | 40 | $30,465 |
| Encore Premium | 1.4l I4 T (153-bhp) | A6 | FWD | 25/33/29 | 42 | $30,465 |
| Encore Preferred | 1.4l I4 T (138-bhp) | A6 | AWD | 26/31/28 | 40 | $25,865 |
| Encore Sport Touring | 1.4l I4 T (138-bhp) | A6 | AWD | 26/31/28 | 40 | $27,065 |
| Encore Sport Touring | 1.4l I4 T (153-bhp) | A6 | AWD | 24/30/27 | 42 | $27,065 |
| Encore Preferred II | 1.4l I4 T (138-bhp) | A6 | AWD | 26/31/28 | 40 | $28,365 |
| Encore Preferred II | 1.4l I4 T (153-bhp) | A6 | AWD | 24/30/27 | 42 | $28,365 |
| Encore Essence | 1.4l I4 T (138-bhp) | A6 | AWD | 26/31/28 | 40 | $30,565 |
| Encore Essence | 1.4l I4 T (153-bhp) | A6 | AWD | 24/30/27 | 42 | $30,565 |
| Encore Premium | 1.4l I4 T (138-bhp) | A6 | AWD | 26/31/28 | 40 | $31,965 |
| Encore Premium | 1.4l I4 T (153-bhp) | A6 | AWD | 24/30/27 | 42 | $31,965 |
Comparisons
Reviews
Videos
Model History