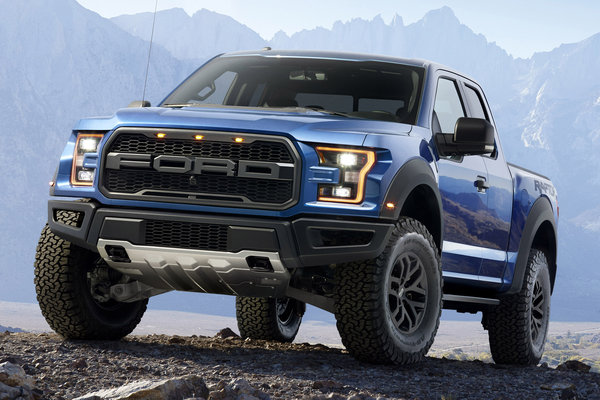 At a Glance
| | |
| --- | --- |
| Pricing | $30,790 - $48,860 |
| Drive Types | RWD, 4WD |
| Engines | 2.7l V6 T, 3.5l V6, 3.5l V6 T, 4.9l V8 |
| Transmissions | A10, A6 |
Our Ratings
Overview Information
The Ford F-Series is the best-selling pickup in the USA. One of the reasons for its popularity is the wide range of body and powertrain variants for personal use and utility needs. A properly equipped F-150 can tow up to 12,200 lbs. With the 2015 redesign, Ford concentrated on efficiency, selecting aluminum body panels and smaller displacement turbocharged engines. The F-Series SuperCrew (crew cab) has the widest range of trim levels with models ranging from the entry-level XL to the pricey Platinum models.
What Changed:
A new 3.5L turbo is paired with a 10-speed automatic. The new 3.5T is rated at 375-bhp and 470 lb-ft. of torque. The off-road focused Raptor model returns for 2017, this time powered by a 410-bhp 3.5L turbo engine.
Official Word:
Ford, America's truck leader, today introduced the all-new F-150 Raptor - the ultimate high-performance off-road pickup in the company's lineup. Ford has reengineered every part of the F-150 Raptor to make it the toughest, smartest, most capable off-roader - and more efficient than ever. "When we created the first Raptor, we set out to prove vehicle performance isn't just measured on the street or at the track - off-road can be even more fun," said Raj...Read.
| Model/Trim/Package | Engine | | | MPG | VjI | Base Price |
| --- | --- | --- | --- | --- | --- | --- |
| F-150 Extended Cab XL | 3.5l V6 (282-bhp) | A6 | RWD | | 39 | $30,790 |
| F-150 Extended Cab XL | 2.7l V6 T (325-bhp) | A6 | RWD | | 45 | $31,785 |
| F-150 Extended Cab XL | 4.9l V8 (385-bhp) | A6 | RWD | | 45 | $32,585 |
| F-150 Extended Cab XL | 3.5l V6 T (375-bhp) | A10 | RWD | | 48 | $33,385 |
| F-150 Extended Cab XLT | 3.5l V6 (282-bhp) | A6 | RWD | | 39 | $34,985 |
| F-150 Extended Cab XLT | 2.7l V6 T (325-bhp) | A6 | RWD | | 45 | $35,980 |
| F-150 Extended Cab XLT | 4.9l V8 (385-bhp) | A6 | RWD | | 45 | $36,780 |
| F-150 Extended Cab XLT | 3.5l V6 T (375-bhp) | A10 | RWD | | 48 | $37,580 |
| F-150 Extended Cab Lariat | 2.7l V6 T (325-bhp) | A6 | RWD | | 48 | $40,460 |
| F-150 Extended Cab Lariat | 4.9l V8 (385-bhp) | A6 | RWD | | 48 | $41,260 |
| F-150 Extended Cab Lariat | 3.5l V6 T (375-bhp) | A10 | RWD | | 51 | $42,260 |
| F-150 Extended Cab XL | 3.5l V6 (282-bhp) | A6 | 4WD | | 28 | $34,220 |
| F-150 Extended Cab XL | 2.7l V6 T (325-bhp) | A6 | 4WD | | 32 | $35,215 |
| F-150 Extended Cab XL | 4.9l V8 (385-bhp) | A6 | 4WD | | 34 | $36,015 |
| F-150 Extended Cab XL | 3.5l V6 T (375-bhp) | A10 | 4WD | | 35 | $36,815 |
| F-150 Extended Cab XLT | 3.5l V6 (282-bhp) | A6 | 4WD | | 28 | $38,410 |
| F-150 Extended Cab XLT | 2.7l V6 T (325-bhp) | A6 | 4WD | | 32 | $39,405 |
| F-150 Extended Cab XLT | 4.9l V8 (385-bhp) | A6 | 4WD | | 34 | $40,205 |
| F-150 Extended Cab XLT | 3.5l V6 T (375-bhp) | A10 | 4WD | | 35 | $41,005 |
| F-150 Extended Cab Lariat | 2.7l V6 T (325-bhp) | A6 | 4WD | | 32 | $43,885 |
| F-150 Extended Cab Lariat | 4.9l V8 (385-bhp) | A6 | 4WD | | 34 | $44,685 |
| F-150 Extended Cab Lariat | 3.5l V6 T (375-bhp) | A10 | 4WD | | 35 | $45,685 |
| F-150 Extended Cab Raptor | 3.5l V6 T (450-bhp) | A10 | 4WD | | 35 | $48,860 |
Comparisons
Reviews
Videos
Model History