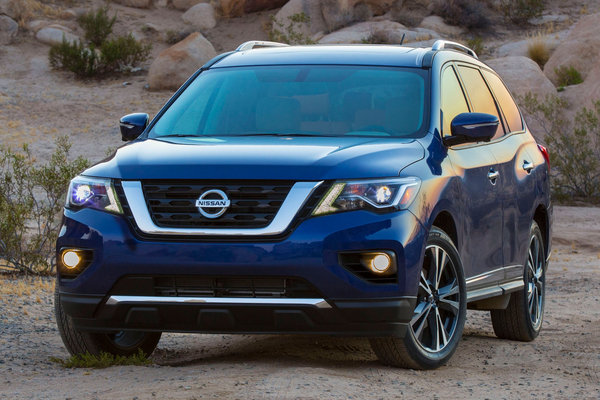 At a Glance
| | |
| --- | --- |
| Pricing | $29,990 - $43,560 |
| Drive Types | FWD, AWD |
| Engines | 3.5l V6 |
| Transmissions | CVT |
| Fuel Economy | 19-20 (city), 26-27 (highway) |
Our Ratings
Overview Information
The long-running Nissan Pathfinder was one of the pioneers of the SUV market. Nissan has reinvented the Pathfinder for the 2013 model year. Like all but the largest SUVs, the Pathfinder is now a FWD-biased crossover with a unibody chassis. With three full-rows of seating the fourth generation Pathfinder is longer and wider than ever before. Compared to similar vehicles, the Pathfinder is smaller than the Chevrolet Traverse, larger than the Honda Pilot and very similar in size to the Ford Explorer. Nissan's 3.5l V6 and CVT transmission are standard on all models. Although the Pathfinder has less power than competitive vehicles, fuel economy is near the top of the class. Nissan offers the Pathfinder in a range of trim levels ranging from around $30,000 to just over $40,000.
What Changed:
The 2017 Pathfinder has updated front styling.
Official Word:
Pathfinder, one of Nissan's best known and most popular nameplates in its nearly 60-year history in the United States, is reborn for the 2017 model year with more adventure capability, a freshened exterior look and enhanced safety and technology - pure Pathfinder taken to a higher level of performance and style. "The Nissan Pathfinder has an amazing heritage as one of the modern pioneers in the SUV segment, with more than 30 years in the marketplace,...Read.
| Model/Trim/Package | Engine | | | MPG | VjI | Base Price |
| --- | --- | --- | --- | --- | --- | --- |
| Pathfinder S | 3.5l V6 (260-bhp) | CVT | FWD | 20/27/23 | 43 | $29,990 |
| Pathfinder S | 3.5l V6 (260-bhp) | CVT | AWD | 19/26/22 | 43 | $31,680 |
| Pathfinder SV | 3.5l V6 (260-bhp) | CVT | FWD | 20/27/23 | 43 | $32,680 |
| Pathfinder SV | 3.5l V6 (260-bhp) | CVT | AWD | 19/26/22 | 41 | $34,370 |
| Pathfinder SL | 3.5l V6 (260-bhp) | CVT | FWD | 20/27/23 | 43 | $35,700 |
| Pathfinder SL | 3.5l V6 (260-bhp) | CVT | AWD | 19/26/22 | 41 | $37,390 |
| Pathfinder Platinum | 3.5l V6 (260-bhp) | CVT | FWD | 20/27/23 | 44 | $41,870 |
| Pathfinder Platinum | 3.5l V6 (260-bhp) | CVT | AWD | 19/26/22 | 44 | $43,560 |
Comparisons
Reviews
Model History