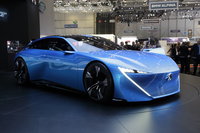 The Geneva Motor Show consistently presents the most diverse range of vehicles of any international show. Typically dominated by German, French, and Italian automakers, this annual Swiss auto show has a limited presence from American companies. Interspersed among the displays from the major manufacturers are many smaller automotive firms offering innovative concepts and limited-production vehicles. Of the major European auto shows, Geneva is arguably the most enjoyable from a visitor's perspective.
Upcoming Shows
Recent Shows
Auto shows lie at the intersection of car shopping, enthusiasm and entertainment. New car shows provide a rare opportunity to see the latest new offerings and concept cars without the pressure of the sales experience. The controlled environments allow the automakers to display their vehicle in the best possible light. Often, the auto show itself transcends the vehicles, offering showgoers celebrity appearances, activities, and trinkets. By contrast, classic car shows and meets allow current owners and fans to appreciate and celebrate historic, popular and unusual cars.
At Velocity, we cover the most important auto shows, new and old. We track the introduction of new vehicles, and capture a photographic record of the most significant vehicles displayed.