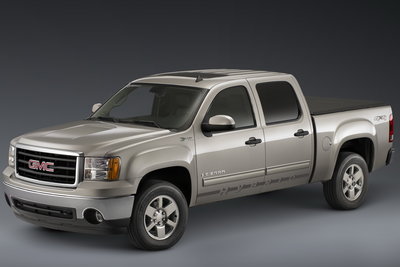 At a Glance
| | |
| --- | --- |
| Pricing | $30,245 - $47,675 |
| Drive Types | RWD, 4WD |
| Engines | 4.8l V8, 5.3l V8, 6.0l V8, 6.0l V8 HEV, 6.2l V8 |
| Transmissions | A4, A6 |
Our Ratings
Overview Information
This is the truck for contractors and others who need a versatile and capable cargo hauler. GMC equips the Sierra with range of engines from a 4.3L V-6 to a 6.0L V-8. While many competitive trucks are available with 5 or 6-speed automatics, the Sierra makes do with two 4-speed units; both are available with a range of axle ratios to suit most needs. Maximum payload for the 1500-Series Sierra is a substantial 1,952 lbs, while towing capacity is up to 8,900 lbs. for 4WD models. A choice of 6.5' and 8' bed lengths is available on Regular Cab models with 2WD or 4WD drivetrains. Braking duties are handled by disc/drum layout. Optional alloy wheels in 17, 18, and 20-inch diameter are available; tire sizes range from P245/45R17 to P275/55R20. The Sierra 1500 is a good value for a full-size truck, and offers a surprisingly refined driving experience.
What Changed:
The Sierra 1500 Crew Cab adds a two-mode hybrid model. Hybrid models feature a 6.0L V8 coupled to GM's two-mode hybrid system. The two-mode hybrid system consists of an electrically variable transmission and nickel-metal hydride battery pack. The Sierra Hybrid is a full hybrid running purely on electric power during certain operating conditions. A new XFE model aims to improve the fuel efficiency. The XFE model features a lowered suspension and soft tonneau cover to improve aerodynamics, while aluminum lower control arms and wheels reduce mass. Low rolling resistance tires are also equipped. As a result, fuel efficiency increases by 1 MPG.
Official Word:
GMC Sierra continues to lead the industry in fuel economy, capability and power, all delivered with responsive ride and handling traits, and an exceptionally quiet driving experience. The lineup includes everything from job-ready Work Truck models to the unique combination of performance and luxury that is the Sierra Denali. For 2009, the Sierra lineup enhances its segment-best fuel economy with a new six-speed automatic that is paired with V-8 engines (except the 4.8L). Additionally, the 6.2L...Read.
| Model/Trim/Package | Engine | | | MPG | VjI | Base Price |
| --- | --- | --- | --- | --- | --- | --- |
| Sierra 1500 Crew Cab SL | 4.8l V8 (295-bhp) | A4 | RWD | | 26 | $30,245 |
| Sierra 1500 Crew Cab SL | 4.8l V8 (295-bhp) | A4 | 4WD | | 18 | $33,395 |
| Sierra 1500 Crew Cab SLE | 6.0l V8 (367-bhp) | A4 | RWD | | 34 | TBD |
| Sierra 1500 Crew Cab SLE | 4.8l V8 (295-bhp) | A4 | RWD | | 26 | $31,515 |
| Sierra 1500 Crew Cab SLE | 5.3l V8 (320-bhp) | A4 | RWD | | 30 | $32,795 |
| Sierra 1500 Crew Cab SLE | 4.8l V8 (295-bhp) | A4 | 4WD | | 18 | $34,705 |
| Sierra 1500 Crew Cab SLE | 5.3l V8 (320-bhp) | A4 | 4WD | | 22 | $35,985 |
| Sierra 1500 Crew Cab SLE | 6.0l V8 (367-bhp) | A4 | 4WD | | 22 | $38,535 |
| Sierra 1500 Crew Cab XFE | 5.3l V8 (320-bhp) | A6 | RWD | | 32 | $33,275 |
| Sierra 1500 Crew Cab SLT | 5.3l V8 (320-bhp) | A6 | RWD | | 32 | $38,705 |
| Sierra 1500 Crew Cab SLT | 6.0l V8 (367-bhp) | A6 | RWD | | 36 | $39,960 |
| Sierra 1500 Crew Cab SLT | 6.2l V8 (403-bhp) | A6 | RWD | | 36 | $40,055 |
| Sierra 1500 Crew Cab SLT | 5.3l V8 (320-bhp) | A6 | 4WD | | 24 | $41,855 |
| Sierra 1500 Crew Cab SLT | 6.0l V8 (367-bhp) | A6 | 4WD | | 24 | $43,110 |
| Sierra 1500 Crew Cab SLT | 6.2l V8 (403-bhp) | A6 | 4WD | | 28 | $43,205 |
| Sierra Denali | 6.2l V8 (403-bhp) | A6 | RWD | | 39 | $40,870 |
| Sierra Denali | 6.2l V8 (403-bhp) | A6 | 4WD | | 31 | $44,020 |
| Sierra Hybrid 3HA | 6.0l V8 HEV (332-bhp) | A4 | RWD | | 33 | $38,390 |
| Sierra Hybrid 3HA | 6.0l V8 HEV (332-bhp) | A4 | 4WD | | 23 | $41,540 |
| Sierra Hybrid 3HB | 6.0l V8 HEV (332-bhp) | A4 | RWD | | 33 | $44,525 |
| Sierra Hybrid 3HB | 6.0l V8 HEV (332-bhp) | A4 | 4WD | | 23 | $47,675 |
Comparisons
Reviews
Videos
Model History