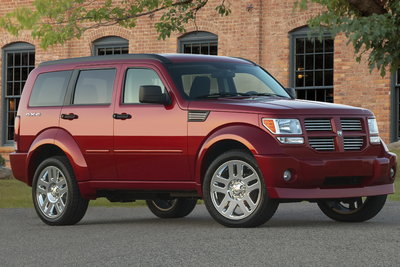 At a Glance
| | |
| --- | --- |
| Pricing | $22,245 - $28,995 |
| Drive Types | RWD, 4WD |
| Engines | 3.7l V6, 4.0l V6 |
| Transmissions | A4, A5 |
| Fuel Economy | 15-16 (city), 21-22 (highway) |
Overview Information
The blocky Dodge Nitro has broad-shouldered styling that is intended to appeal to a macho clientele. A standard 210-bhp 3.7L V-6 is only available in the base model. Most models are powered by a 4.0l V6 paired with a 5-speed automatic. Both RWD and permanent 4WD models are offered. Trim levels were realigned in 2010 to Heat, Detonator, and Shock. Twenty inch wheels are standard on all models.
What Changed:
In mid-2010, the Nitro's trim levels were changed to Heat, Detonator and Shock. For 2011, Dodge adds Heat 4.0 offering the base trim level with the upgraded 4.0l V6.
Official Word:
Dodge Nitro is Dodge's first mid-size SUV. With its bold styling and aggressive stance, Dodge Nitro is unlike any other mid-size SUV in the marketplace. For 2010, Dodge will offer two models - Dodge Nitro SE and SXT. New for 2010 is interactive Decel Fuel Shut Off (iDFSO). iDFSO turns off fuel during vehicle deceleration, which improves fuel economy. This feature, standard on 3.7- and 4.0-liter engines, improves fuel economy without any noticeable changes in engine...Read.
| Model/Trim/Package | Engine | | | MPG | VjI | Base Price |
| --- | --- | --- | --- | --- | --- | --- |
| Nitro Heat | 3.7l V6 (210-bhp) | A4 | RWD | 16/22/19 | | $22,245 |
| Nitro Heat | 3.7l V6 (210-bhp) | A4 | 4WD | 15/21/18 | | $23,995 |
| Nitro Heat 4.0 | 4.0l V6 (260-bhp) | A5 | RWD | 16/21/18 | | $24,045 |
| Nitro Heat 4.0 | 4.0l V6 (260-bhp) | A5 | 4WD | 16/21/18 | | $25,795 |
| Nitro Detonator | 4.0l V6 (260-bhp) | A5 | RWD | 16/21/18 | | $26,245 |
| Nitro Detonator | 4.0l V6 (260-bhp) | A5 | 4WD | 16/21/18 | | $27,995 |
| Nitro Shock | 4.0l V6 (260-bhp) | A5 | RWD | 16/21/18 | | $27,245 |
| Nitro Shock | 4.0l V6 (260-bhp) | A5 | 4WD | 16/21/18 | | $28,995 |
Comparisons
Reviews
Videos
Model History