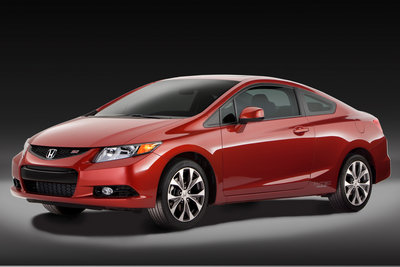 At a Glance
| | |
| --- | --- |
| Pricing | $15,755 - $23,855 |
| Drive Types | FWD |
| Engines | 1.8l I4, 2.4l I4 |
| Transmissions | A5, M5, M6 |
| Fuel Economy | 22-28 (city), 31-39 (highway) |
Our Ratings
Overview Information
Through nine generations, the Honda Civic has won many fans. It should come as no surprise that Honda offers more varieties of the Civic than it does of any other product. Available as both a coupe and sedan, the Civic offers no fewer than three different powertrains including a hybrid and a model that runs on compressed natural gas. The entry level DX model sports a low base price but also omits air conditioning and common conveniences like cruise control and power locks. For about $2000 more, the LX model includes these items as standard equipment. The Civic EX offers the best equipment for the money. It includes alloy wheels, four-wheel disc brakes, and a sunroof. The Civic is also offered with an optional navigation system and leather seating (EX-L). Most performance enthusiasts should be familiar with the Civic Si models. The Si pairs a six-speed manual with a larger 2.4l engine rated at 201-bhp. The Si offers an uncommon level of performance for around $23,000. Most models are rated at a respectable 28 /39 (city / highway) when equipped with an automatic transmission. Although the Civic is priced a little higher than some of its newer competitors, the Civic enjoys Honda's long history of reliability and high resale values.
What Changed:
The ninth generation Civic is all new, although the overall styling is an evolution of the eighth generation. The lineup has now grown to include 8 major trim levels including the return of a higher mileage HF sedan model. Although the exterior of the new model is almost identical in size to the old model, the new Civic has increased both its passenger and cargo capacity despite a 1 inch reduction in wheelbase. The most common engine, the 1.8l four-cylinder is still rated at 140-bhp, but fuel economy has improved to 28 city / 39 hwy when equipped with the five speed automatic. The Si performance model has switched to a new 2.4l four-cylinder engine which produces slightly more horsepower, but significantly more torque.
Official Word:
The all-new 2012 Honda Civic represents the ninth generation of one of the company's most popular and globally recognized products. Having earned a reputation for being a fun-to-drive compact that is simultaneously fuel efficient, sporty, stylish and durable, the Civic has become a beloved and relied-upon member of the worldwide transportation family. Cumulatively, the Civic has reached 8.8 million customers in the United States through 2010 since its launch as a 1973 model. Each generation of...Read.
| Model/Trim/Package | Engine | | | MPG | VjI | Base Price |
| --- | --- | --- | --- | --- | --- | --- |
| Civic coupe DX | 1.8l I4 (140-bhp) | M5 | FWD | 28/36/32 | 56 | $15,755 |
| Civic coupe DX | 1.8l I4 (140-bhp) | A5 | FWD | 28/39/33 | 56 | $16,555 |
| Civic coupe LX | 1.8l I4 (140-bhp) | M5 | FWD | 28/36/32 | 56 | $17,805 |
| Civic coupe LX | 1.8l I4 (140-bhp) | A5 | FWD | 28/39/33 | 56 | $18,605 |
| Civic coupe EX | 1.8l I4 (140-bhp) | M5 | FWD | 28/36/32 | 62 | $19,855 |
| Civic coupe EX | 1.8l I4 (140-bhp) | A5 | FWD | 28/39/33 | 60 | $20,655 |
| Civic coupe EX Navigation | 1.8l I4 (140-bhp) | A5 | FWD | 28/39/33 | 60 | $22,155 |
| Civic coupe EX-L | 1.8l I4 (140-bhp) | A5 | FWD | 28/39/33 | 60 | $22,105 |
| Civic coupe EX-L Navigation | 1.8l I4 (140-bhp) | A5 | FWD | 28/39/33 | 60 | $23,605 |
| Civic coupe Si | 2.4l I4 (201-bhp) | M6 | FWD | 22/31/26 | 67 | $22,355 |
| Civic coupe Si Navigation | 2.4l I4 (201-bhp) | M6 | FWD | 22/31/26 | 67 | $23,855 |
Comparisons
Reviews
Videos
Model History