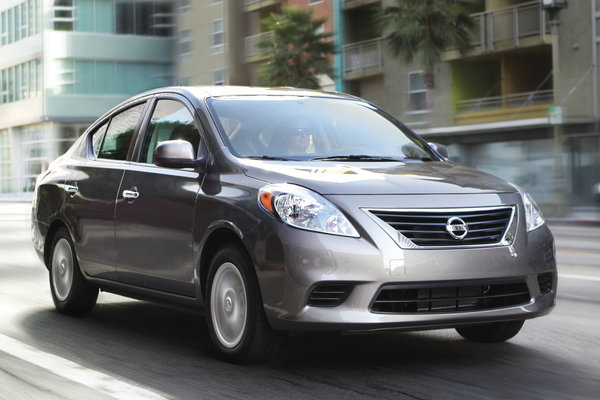 At a Glance
| | |
| --- | --- |
| Pricing | $10,990 - $16,260 |
| Drive Types | FWD |
| Engines | 1.6l I4 |
| Transmissions | CVT, M5 |
| Fuel Economy | 27-30 (city), 36-38 (highway) |
Our Ratings
Overview Information
The Versa is Nissan's smallest car and least expensive model. All-new in 2012, the second generation model uses advanced powertrain technologies to turn in a respectable EPA rating of 30/38 (city / highway). Roughly the same size as the Hyundai Accent, the Versa has more legroom and cargo volume than other vehicles in its class. Touting a low starting price of under $12,000 the base model forgoes some common equipment, but a Versa with a reasonable amount of equipment can still be had for around $16,000.
What Changed:
Nissan thoroughly reworked the Versa for the 2012 model year. The Versa wears new styling outside and in. Built on a new platform, the new Versa is slightly shorter in length and height. Passenger volume has decreased slightly, but the sedan has an additional cubic foot of room in the trunk. The updated 1.6-liter four-cylinder engine uses two injectors per cylinder to reduce the amount of fuel used. Combined with the new CVT transmission, the Versa is expected to be more fuel efficient. Nissan estimates an EPA rating of 30 MPG City, and 38 MPG highway.
Official Word:
Small on the outside, big on the inside. Smart technology with next-generation efficiency. A $10,990 starting M.S.R.P. and low cost of ownership. New dual injector system and sub-planetary CVT design. Expected combined city/highway fuel economy of 33 miles per gallon. New global "V" (for Versatile) platform. Sophisticated styling, high quality interior. There are myriad ways the all-new 2012 Nissan Versa Sedan breaks new ground for entry-level compact sedans. And many ways to sum them all up....Read.
| Model/Trim/Package | Engine | | | MPG | VjI | Base Price |
| --- | --- | --- | --- | --- | --- | --- |
| Versa sedan 1.6 S | 1.6l I4 (109-bhp) | M5 | FWD | 27/36/31 | 44 | $10,990 |
| Versa sedan 1.6 S | 1.6l I4 (109-bhp) | CVT | FWD | 30/38/34 | 43 | $13,120 |
| Versa sedan 1.6 S Cruise | 1.6l I4 (109-bhp) | CVT | FWD | 30/38/34 | 43 | $13,470 |
| Versa sedan 1.6 SV | 1.6l I4 (109-bhp) | CVT | FWD | 30/38/34 | 43 | $14,870 |
| Versa sedan 1.6 SV Convenience | 1.6l I4 (109-bhp) | CVT | FWD | 30/38/34 | 43 | $15,220 |
| Versa sedan 1.6 SL | 1.6l I4 (109-bhp) | CVT | FWD | 30/38/34 | 43 | $15,560 |
| Versa sedan 1.6 SL Tech | 1.6l I4 (109-bhp) | CVT | FWD | 30/38/34 | 43 | $16,260 |
Comparisons
Reviews
Videos
Model History