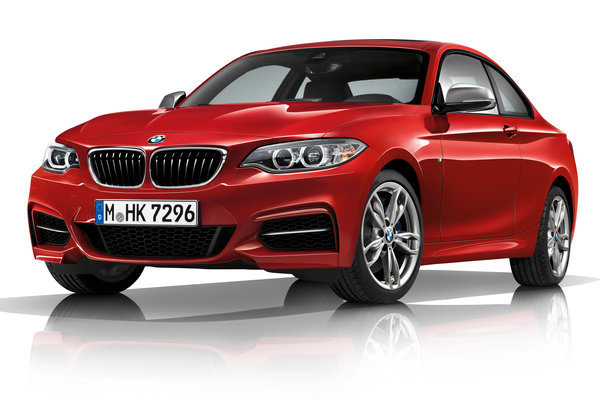 At a Glance
| | |
| --- | --- |
| Pricing | $33,150 - $54,600 |
| Drive Types | RWD, AWD |
| Engines | 2.0l I4 T, 3.0l I6 T |
| Transmissions | A8, M6, SM7 |
| Fuel Economy | 18-24 (city), 26-35 (highway) |
Our Ratings
Overview Information
The steady upsizing of BMW's iconic 3-Series left room for BMW to bring its smaller line of cars to the US market. With the introduction of the second generation model in 2014, the 1-Series became the 2-Series to follow BMW's revised naming conventions. When compared to the 4-Series, the 2-Series is about 8 inches shorter, 2 inches narrower and a thousand pounds lighter. Two models are offered with numeric designations tied to the powertrain offerings. The 228i equips a 240-bhp turbocharged four-cylinder engine, where the M235i equips a 3.0l inline six-cylinder engine rated at 322-bhp. Pricing starts at around $33,000 for the 228i, which is about $8000 less than the 428i, but expensive option groups quickly inflate the price. Regardless, the 2-Series coupe is one of the best price / performance values on the market.
What Changed:
New engines result in an updated nomenclature. Four cylinder models are now 230i (formerly 228i), whereas six-cylinder engines become 240i (formerly 235i).
Official Word:
Today, BMW announced the new 2017 BMW 2 Series now featuring the latest generation of BMW TwinPower Turbo 4-cylinder and 6-cylinder inline engines. The advances in dynamics and efficiency in these new vehicles are communicated by the new model designation. The new BMW 230i Coupe and BMW 230i Convertible are powered by the latest generation 4-cylinder 2.0 liter engine featuring an even smoother power deliver and efficiency with increased horsepower and torque, 248 hp and 258...Read.
| Model/Trim/Package | Engine | | | MPG | VjI | Base Price |
| --- | --- | --- | --- | --- | --- | --- |
| 2-Series Coupe 230i | 2.0l I4 T (248-bhp) | M6 | RWD | 21/32/26 | 76 | $33,150 |
| 2-Series Coupe 230i | 2.0l I4 T (248-bhp) | A8 | RWD | 24/35/29 | 77 | $33,150 |
| 2-Series Coupe 230i xDrive | 2.0l I4 T (248-bhp) | A8 | AWD | 24/33/28 | 75 | $35,150 |
| 2-Series Coupe M240i | 3.0l I6 T (335-bhp) | M6 | RWD | 19/28/23 | 76 | $44,450 |
| 2-Series Coupe M240i | 3.0l I6 T (335-bhp) | A8 | RWD | 21/32/26 | 77 | $44,450 |
| 2-Series Coupe M240i xDrive | 3.0l I6 T (335-bhp) | A8 | AWD | 21/31/26 | 79 | $46,450 |
| 2-Series Coupe M2 | 3.0l I6 T (365-bhp) | M6 | RWD | 18/26/22 | 76 | $51,700 |
| 2-Series Coupe M2 | 3.0l I6 T (365-bhp) | SM7 | RWD | 20/26/23 | 78 | $54,600 |
Comparisons
Reviews
Videos
Model History