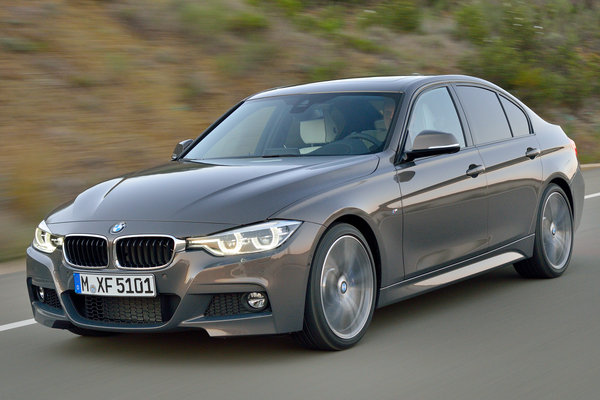 At a Glance
| | |
| --- | --- |
| Pricing | $33,450 - $66,900 |
| Drive Types | RWD, AWD |
| Engines | 2.0l I4 HEV T, 2.0l I4 T, 2.0l I4 T D, 3.0l I6 T |
| Transmissions | A8, M6, SM7 |
| Fuel Economy | 17-31 (city), 24-43 (highway) |
Our Ratings
Overview Information
The BMW 3-Series has been considered a benchmark sedan for decades. The 3-Series is offered with a wide array of powertrain choices including four-cylinder gas (320i, 330i) four-cylinder diesel (328d), inline six-cylinder (340i, M3), and hybrid gas/electric (330e). Most models offer BMW's optional xDrive all-wheel-drive system. Base prices on 3-Series models can be misleading due to the fact that commonly included standard equipment like heated seats or leather upholstery are options which add quickly to the price. The BMW 3-Series sedan is now part of a larger family of vehicles including the 4-Series coupe/convertible, 4-Series Gran Coupe four-door, 3-Series Gran Turismo five-door, and also the X4 crossover fastback.
What Changed:
A plug-in hybrid model (330e) joins the lineup. New engines force an updated nomenclature. Four cylinder models are now 330i (formerly 328i), whereas six-cylinder engines become 340i (formerly 335i).
Official Word:
The all-new  BMW 330e iPerformance adds another highly innovative variant to the BMW 3 Series line-up with its advanced plug-in hybrid drive system. For the first time, cutting-edge BMW i technologies have been integrated into the world's most successful premium model. The BMW 3 Series Sedan has already set standards for sports performance and fuel economy in its segment using conventional combustion engines. Key ingredients are its intelligent lightweight design, outstanding aerodynamics for its class and the extensive use of BMW EfficientDynamics technology...Read.
| Model/Trim/Package | Engine | | | MPG | VjI | Base Price |
| --- | --- | --- | --- | --- | --- | --- |
| 3-Series sedan 320i | 2.0l I4 T (180-bhp) | M6 | RWD | 23/35/28 | 69 | $33,450 |
| 3-Series sedan 320i | 2.0l I4 T (180-bhp) | A8 | RWD | 23/35/28 | 70 | $33,450 |
| 3-Series sedan 320i xDrive | 2.0l I4 T (180-bhp) | M6 | AWD | | 65 | $35,450 |
| 3-Series sedan 320i xDrive | 2.0l I4 T (180-bhp) | A8 | AWD | 23/34/28 | 66 | $35,450 |
| 3-Series sedan 330i | 2.0l I4 T (248-bhp) | M6 | RWD | 21/32/26 | 69 | $38,750 |
| 3-Series sedan 330i | 2.0l I4 T (248-bhp) | A8 | RWD | 23/34/28 | 70 | $38,750 |
| 3-Series sedan 330i xDrive | 2.0l I4 T (248-bhp) | A8 | AWD | 23/33/28 | 70 | $40,750 |
| 3-Series sedan 340i | 3.0l I6 T (320-bhp) | M6 | RWD | 19/29/24 | 71 | $47,900 |
| 3-Series sedan 340i | 3.0l I6 T (320-bhp) | A8 | RWD | 21/32/26 | 72 | $47,900 |
| 3-Series sedan 340i xDrive | 3.0l I6 T (320-bhp) | M6 | AWD | 19/29/24 | 73 | $49,900 |
| 3-Series sedan 340i xDrive | 3.0l I6 T (320-bhp) | A8 | AWD | 21/31/26 | 74 | $49,900 |
| 3-Series sedan 328d | 2.0l I4 T D (180-bhp) | A8 | RWD | 31/43/36 | 68 | $40,250 |
| 3-Series sedan 328d xDrive | 2.0l I4 T D (180-bhp) | A8 | AWD | 30/40/34 | 70 | $42,250 |
| 3-Series sedan 330e iPerformance | 2.0l I4 HEV T (248-bhp) | A8 | RWD | | 66 | $44,100 |
| 3-Series sedan M3 | 3.0l I6 T (425-bhp) | M6 | RWD | 17/26/21 | 77 | $64,000 |
| 3-Series sedan M3 | 3.0l I6 T (425-bhp) | SM7 | RWD | 17/24/20 | 79 | $66,900 |
Comparisons
Reviews
Videos
Model History