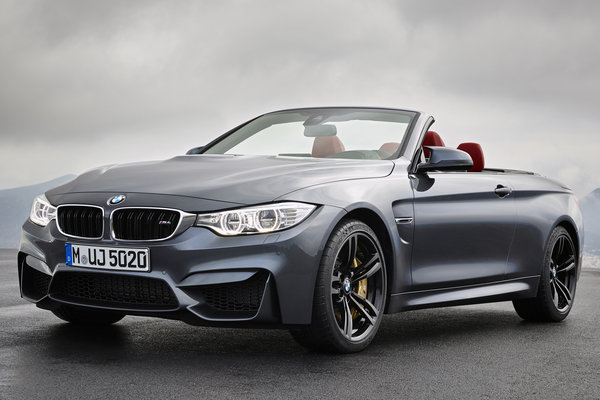 At a Glance
| | |
| --- | --- |
| Pricing | $50,300 - $77,600 |
| Drive Types | RWD, AWD |
| Engines | 2.0l I4 T, 3.0l I6 T |
| Transmissions | A8, M6, SM7 |
| Fuel Economy | 17-23 (city), 24-34 (highway) |
Our Ratings
Overview Information
The BMW 4-Series convertible (formerly 3-Series) is a compelling choice for drivers looking for open-air motoring with the security of a retractable hardtop. Competition includes the convertible models of the Audi A5, Mercedes-Benz E-Class, and Infiniti Q60. Available with turbocharged 4-cylinder (428i) and 6-cylinder (435i) engines, the convertible retains most of the performance and handling of the coupe. Torsional and bending rigidity is surprisingly good for a convertible, but this convertible weighs in at 2 tons. A comprehensive set of active safety enhancements ensure the best possible accidence avoidance capabilities.
What Changed:
New engines force an updated nomenclature. Four cylinder models are now 430i (formerly 428i), whereas six-cylinder engines become 440i (formerly 435i).
Official Word:
The all-new BMW 4 Series Convertible represents the latest chapter in the modern history of BMW Convertibles which dates back to 1987 and the first BMW 3 Series Convertible. As with the new BMW 4 Series Coupe, the 4 Series Convertible embodies the very essence of dynamics and aesthetic appeal in the premium segment. The "4" in its title headlines this new product line for the Convertible and emphasizes not only its stand-out design, but also...Read.
| Model/Trim/Package | Engine | | | MPG | VjI | Base Price |
| --- | --- | --- | --- | --- | --- | --- |
| 4-Series convertible 430i | 2.0l I4 T (248-bhp) | A8 | RWD | 23/34/28 | 65 | $50,300 |
| 4-Series convertible 430i xDrive | 2.0l I4 T (248-bhp) | A8 | AWD | 22/32/26 | 63 | $52,300 |
| 4-Series convertible 440i | 3.0l I6 T (320-bhp) | A8 | RWD | 21/29/25 | 65 | $57,300 |
| 4-Series convertible 440i xDrive | 3.0l I6 T (320-bhp) | A8 | AWD | 20/30/24 | 67 | $59,300 |
| 4-Series convertible M4 | 3.0l I6 T (425-bhp) | M6 | RWD | 17/26/21 | 75 | $74,700 |
| 4-Series convertible M4 | 3.0l I6 T (425-bhp) | SM7 | RWD | 17/24/20 | 73 | $77,600 |
Comparisons
Reviews
Videos
Model History