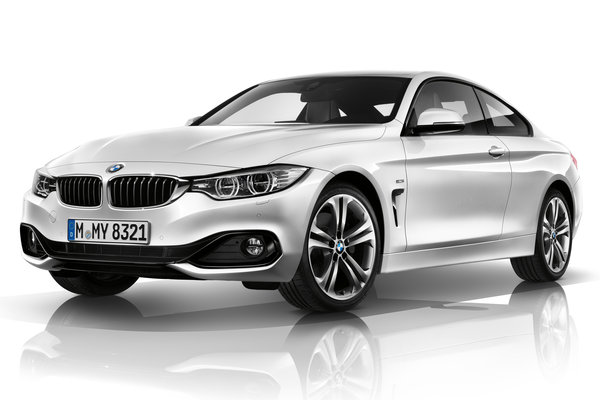 At a Glance
| | |
| --- | --- |
| Pricing | $42,150 - $69,100 |
| Drive Types | RWD, AWD |
| Engines | 2.0l I4 T, 3.0l I6 T |
| Transmissions | A8, M6, SM7 |
| Fuel Economy | 17-23 (city), 24-34 (highway) |
Our Ratings
Overview Information
The 4-Series (formerly 3-Series) has long been the standard-bearer in one of the industry's most competitive segments. BMW offers an impressive combination of styling, performance, and luxury features for a German luxury coupe priced from the low forties. Offered in RWD and AWD versions, the 3-Series model range includes multiple models with alphanumeric designations corresponding to their drive train. The 428i equips a turbocharged four-cylinder rated at 240-bhp whereas 435i models include the traditional inline-6 rated at 300-bhp. Most BMW models includes a healthy list of driver aids and available technology, but some common items like heated leather seats require hitting the option list.
What Changed:
New engines force an updated nomenclature. Four cylinder models are now 430i (formerly 428i), whereas six-cylinder engines become 440i (formerly 435i).
Official Word:
BMW today announced the all-new BMW M3 Sedan and BMW M4 Coupe models, which capitalize on the strengths of the latest 3 Series Sedan and fresh 4 Series Coupe models as their respective foundations. As the first-ever BMW M cars to feature the achievement of an engineered-in reduction in curb weight from one generation to the next, the all-new M3 and M4 stand poised to attack corners, hills, and braking zones, and will vigorously defend BMW...Read.
| Model/Trim/Package | Engine | | | MPG | VjI | Base Price |
| --- | --- | --- | --- | --- | --- | --- |
| 4-Series coupe 430i | 2.0l I4 T (248-bhp) | M6 | RWD | 21/33/26 | 70 | $42,150 |
| 4-Series coupe 430i | 2.0l I4 T (248-bhp) | A8 | RWD | 23/34/28 | 71 | $42,150 |
| 4-Series coupe 430i xDrive | 2.0l I4 T (248-bhp) | A8 | AWD | 23/33/28 | 71 | $44,150 |
| 4-Series coupe 440i | 3.0l I6 T (320-bhp) | A8 | RWD | 21/32/26 | 73 | $48,500 |
| 4-Series coupe 440i | 3.0l I6 T (320-bhp) | M6 | RWD | 19/29/24 | 72 | $48,500 |
| 4-Series coupe 440i xDrive | 3.0l I6 T (248-bhp) | M6 | AWD | 19/29/24 | 72 | $50,500 |
| 4-Series coupe 440i xDrive | 3.0l I6 T (320-bhp) | A8 | AWD | 21/31/26 | 75 | $50,500 |
| 4-Series coupe M4 | 3.0l I6 T (425-bhp) | M6 | RWD | 17/26/21 | 81 | $66,200 |
| 4-Series coupe M4 | 3.0l I6 T (425-bhp) | SM7 | RWD | 17/24/20 | 83 | $69,100 |
Comparisons
Reviews
Videos
Model History