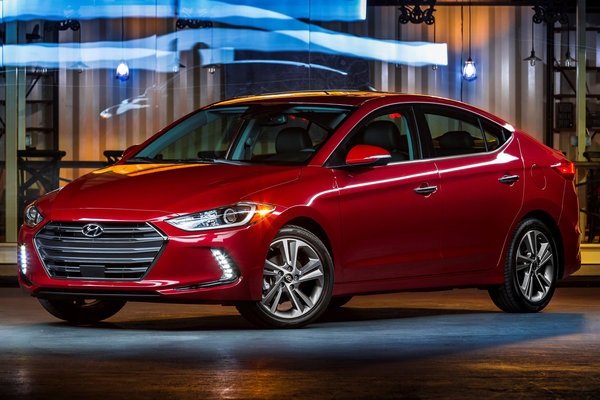 At a Glance
| | |
| --- | --- |
| Pricing | $17,150 - $26,750 |
| Drive Types | FWD |
| Engines | 1.4l I4 T, 1.6l I4 T, 2.0l I4 |
| Transmissions | A6, M6, SM7 |
| Fuel Economy | 22-32 (city), 30-40 (highway) |
Our Ratings
Overview Information
The Hyundai Elantra has rapidly evolved in to one of the best offerings in the compact segment. The latest Elantra is roomy, stylish and fuel-efficient. With a wider track and longer wheelbase, the Elantra compares favorably with the top-selling Honda Civic in size. Models include the base SE, upscale Limted and more powerful Sport model. A 1.8l four-cylinder engine is standard on SE and Limited models, whereas the Sport equips a more powerful 2.0l engine. Most models equip a six-speed automatic, although a six-speed manual is available on SE and Sport models. Elantra's four cylinder is more powerful than other similar engines in the segment, yet turns in an estimated fuel economy rating of 28/38 (city/hwy). If you are shopping in this segment, the Elantra bears consideration.
What Changed:
The Elantra enters its sixth generation with an all-new vehicle for 2017. Largely the same size as its predecessor, the Elantra has grown only slightly in length and width. Most Elantras equip either a 2.0l or 1.4l four cylinder engine. The Elantra Sport equips a more powerful 201-bhp 1.6l turbo mated to a 7-speed dual-clutch transmission.
Official Word:
Hyundai today reveals its all-new 2017 Elantra at the Los Angeles Auto Show. As one of Hyundaiâ€(TM)s all time best-selling models, the new Elantra enters its sixth-generation building on the momentum and success of its proven award-winning formula and strong value proposition by offering a bold aerodynamic design with sophisticated styling, all-new efficient powertrains for enhanced fuel economy, better ride quality and noise insulation, and comprehensive safety with class-above features. Assembled in both Montgomery, Alabama and...Read.
| Model/Trim/Package | Engine | | | MPG | VjI | Base Price |
| --- | --- | --- | --- | --- | --- | --- |
| Elantra sedan SE | 2.0l I4 (147-bhp) | M6 | FWD | 26/36/30 | 53 | $17,150 |
| Elantra sedan SE | 2.0l I4 (147-bhp) | A6 | FWD | 28/37/32 | 51 | $18,150 |
| Elantra sedan SE Popular | 2.0l I4 (147-bhp) | A6 | FWD | 28/37/32 | 54 | $18,950 |
| Elantra sedan SE Tech | 2.0l I4 (147-bhp) | A6 | FWD | 28/37/32 | 54 | $20,250 |
| Elantra sedan Value | 2.0l I4 (147-bhp) | A6 | FWD | 28/37/32 | 54 | $20,250 |
| Elantra sedan Eco | 1.4l I4 T (128-bhp) | SM7 | FWD | 32/40/36 | 53 | $20,650 |
| Elantra sedan Limited | 2.0l I4 (147-bhp) | A6 | FWD | 28/37/32 | 60 | $22,350 |
| Elantra sedan Limited Tech | 2.0l I4 (147-bhp) | A6 | FWD | 28/37/32 | 60 | $24,850 |
| Elantra sedan Limited Ultimate | 2.0l I4 (147-bhp) | A6 | FWD | 28/37/32 | 60 | $26,750 |
| Elantra sedan Sport | 1.6l I4 T (201-bhp) | M6 | FWD | 22/30/26 | 67 | $21,650 |
| Elantra sedan Sport | 1.6l I4 T (201-bhp) | SM7 | FWD | 26/33/29 | 69 | $22,750 |
| Elantra sedan Sport Premium | 1.6l I4 T (201-bhp) | M6 | FWD | 22/30/26 | 67 | $24,050 |
| Elantra sedan Sport Premium | 1.6l I4 T (201-bhp) | SM7 | FWD | 26/33/29 | 69 | $25,150 |
Comparisons
Videos
Model History