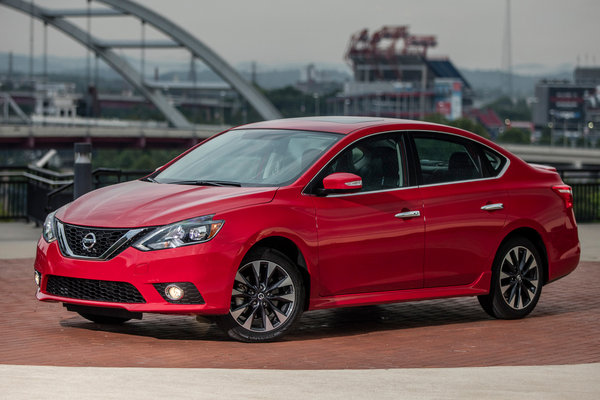 At a Glance
| | |
| --- | --- |
| Pricing | $16,990 - $24,990 |
| Drive Types | FWD |
| Engines | 1.6l I4 T, 1.8l I4 |
| Transmissions | CVT, M6 |
| Fuel Economy | 25-29 (city), 30-37 (highway) |
Our Ratings
Overview Information
Once Nissan's smallest car in the US, the Sentra had to make room for the Versa at the bottom of the lineup. The base model Sentra equips a 1.8l four-cylinder engine and CVT transmission that lag many competitors in power and fuel-efficiency. For 2017, the Sentra is also available in SR Turbo and NISMO trim levels with a more powerful 1.6l turbocharged engine, 18" wheels and four-wheel disc brakes. With 188-bhp, these newer Sentra models will finally have something other than styling to differentiate them from their competitors.
What Changed:
A new 188-bhp, 1.6l turbocharged four-cylinder engine is added to the SR Turbo and NISMO models. These models also include an updated suspension and four-wheel disc brakes.
Official Word:
Nissan today kicked off its slate of new product debuts at the Los Angeles Auto Show with a preview of the new 2017 Nissan Sentra NISMO in downtown Los Angeles. The off-site event displayed the latest member of the motorsports-inspired NISMO lineup against a backdrop of classic Nissan and Datsun performance vehicles and where it is most at home - on the street. Tomorrow Nissan moves into the Los Angeles Convention Center for an action-packed reveal...Read.
| Model/Trim/Package | Engine | | | MPG | VjI | Base Price |
| --- | --- | --- | --- | --- | --- | --- |
| Sentra S | 1.8l I4 (130-bhp) | M6 | FWD | 27/35/31 | 47 | $16,990 |
| Sentra S | 1.8l I4 (130-bhp) | CVT | FWD | 29/37/33 | 46 | $17,990 |
| Sentra SV | 1.8l I4 (130-bhp) | CVT | FWD | 29/37/33 | 46 | $18,790 |
| Sentra SR | 1.8l I4 (130-bhp) | CVT | FWD | 29/37/33 | 46 | $19,990 |
| Sentra SR Turbo | 1.6l I4 T (188-bhp) | CVT | FWD | 27/33/30 | 55 | $21,990 |
| Sentra SR Turbo | 1.6l I4 T (188-bhp) | M6 | FWD | 26/32/29 | 56 | $21,990 |
| Sentra SL | 1.8l I4 (130-bhp) | CVT | FWD | 29/37/33 | 46 | $21,500 |
| Sentra NISMO | 1.6l I4 T (188-bhp) | M6 | FWD | 25/31/28 | 56 | $24,990 |
| Sentra NISMO | 1.6l I4 T (188-bhp) | CVT | FWD | 25/30/27 | 55 | $24,990 |
Comparisons
Reviews
Model History