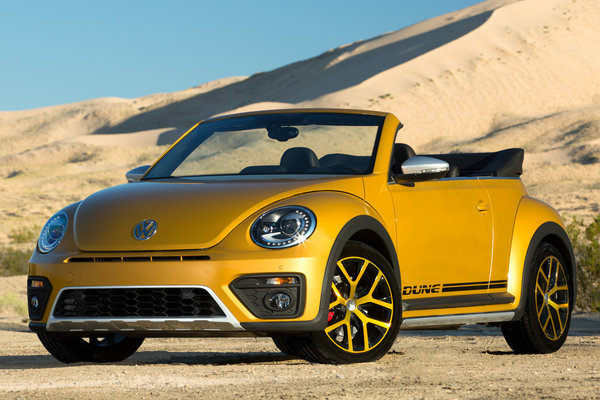 At a Glance
| | |
| --- | --- |
| Pricing | $24,725 - $30,275 |
| Drive Types | FWD |
| Engines | 1.8l I4 T |
| Transmissions | A6 |
| Fuel Economy | 24 (city), 31-33 (highway) |
Our Ratings
Overview Information
It's hard to approach the status of the Beetle. Only a couple of cars on the road have similar lifetime sales numbers and few have the instantly recognizable shape of the Beetle. Introduced in 2012, the third generation is longer, wider and has an overall more aggressive look. A power-retractable, soft-top convertible model re-joined the lineup in 2013. Modern Beetles are front wheel drive with the engine in front. Beetle powertrains include an inline five-cylinder engine and a turbocharged four cylinder. The turbocharged Beetle with 200-horsepower and a six-speed dual clutch transmission should be quick enough to turn some heads. In today's market, Scion, Hyundai, and Kia provide the kind of value that the original Beetle was known for, but a unique combination of heritage, style, utility, and fuel economy should help keep the Beetle on some shopping lists.
What Changed:
Updated front and rear bumpers. Convertible is now available in a Dune model. R-Line convertible dropped.
Official Word:
The Beetle has been one of the most popular open-top cars ever built since the type 15 Convertible debuted in 1949, with more than 500,000 examples being built between its release and the current car, which went on sale in 2012 as a 2013 model. Each iteration has reinforced the Beetle's iconic design and inspired a whole new generation of buyers. New for 2017 Like the Beetle coupe, the 2017 Beetle Convertible 1.8T gets a revised...Read.
| Model/Trim/Package | Engine | | | MPG | VjI | Base Price |
| --- | --- | --- | --- | --- | --- | --- |
| Beetle Convertible 1.8T S | 1.8l I4 T (170-bhp) | A6 | FWD | 24/33/28 | 55 | $24,725 |
| Beetle Convertible 1.8T Classic | 1.8l I4 T (170-bhp) | A6 | FWD | 24/33/28 | 55 | $24,995 |
| Beetle Convertible 1.8T SE | 1.8l I4 T (170-bhp) | A6 | FWD | 24/33/28 | 55 | $26,750 |
| Beetle Convertible PinkBeetle | 1.8l I4 T (170-bhp) | A6 | FWD | 24/33/28 | 55 | $26,795 |
| Beetle Convertible 1.8T Dune | 1.8l I4 T (170-bhp) | A6 | FWD | 24/31/27 | 50 | $29,395 |
| Beetle Convertible 1.8T SEL | 1.8l I4 T (170-bhp) | A6 | FWD | 24/33/28 | 58 | $30,275 |
Comparisons
Reviews
Videos
Model History