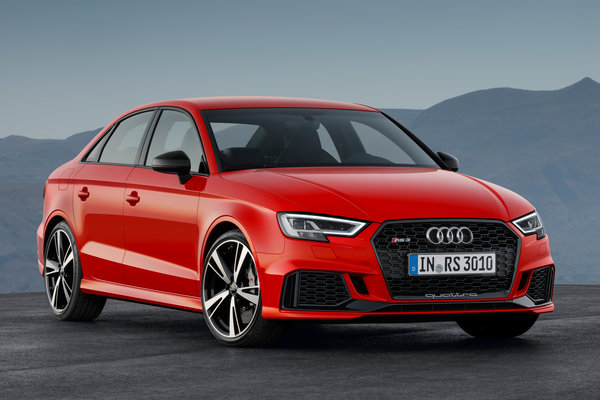 At a Glance
| | |
| --- | --- |
| Pricing | $31,950 - $54,900 |
| Drive Types | FWD, AWD |
| Engines | 2.0l I4 T, 2.5l I5 T |
| Transmissions | SM6, SM7 |
| Fuel Economy | 19-26 (city), 28-35 (highway) |
Our Ratings
| | |
| --- | --- |
| Velocity Index | 77 |
| Style | |
| Utility | |
| Livability | |
| Value | |
| Fun | |
Overview Information
The A3 is the smallest car series Audi sells in the U.S. Available in 3 body styles, the A3 line includes a five-passenger sedan model as the entry point to the Audi brand. The A3 includes leather seating, dual-zone climate control, HID lighting, and alloy wheels as standard equipment. Front-wheel-drive models are offered in addition to Audi's quattro AWD. All models are powered by a four-cylinder turbocharged engine mated to a dual-clutch transmission. The performance-oriented S3 sedan has upgraded engine performance, larger brakes and a unique suspension.
What Changed:
The 400-bhp RS 3 joins the lineup in the US. Power is provided by an inline five-cylinder engine.
Official Word:
Available for the first time in the U.S., the 2018 Audi RS 3 will make its North American debut at the New York International Auto Show. As the first compact Audi sedan to wear the RS badge, the RS 3 delivers unrivaled performance in its segment, coupled with a high level of everyday functionality. Specifically developed for the US market, the RS 3 is equipped with the storied Audi five-cylinder engine which produces its unique sound...Read.
| Model/Trim/Package | EL | Engine | | | MPG | VjI | Base Price |
| --- | --- | --- | --- | --- | --- | --- | --- |
| A3 Sedan 2.0T Premium | 3 | 2.0l I4 T (186-bhp) | SM7 | FWD | 26/35/30 | 65 | $31,950 |
| A3 Sedan 2.0T quattro Premium | 3 | 2.0l I4 T (220-bhp) | SM6 | AWD | 24/31/27 | 67 | $34,950 |
| A3 Sedan 2.0T Premium Plus | 3 | 2.0l I4 T (186-bhp) | SM7 | FWD | 26/35/30 | 67 | $35,200 |
| A3 Sedan 2.0T quattro Premium Plus | 3 | 2.0l I4 T (220-bhp) | SM6 | AWD | 24/31/27 | 69 | $38,200 |
| A3 Sedan 2.0T Prestige | 4 | 2.0l I4 T (186-bhp) | SM7 | FWD | 26/35/30 | 67 | $40,700 |
| A3 Sedan 2.0T quattro Prestige | 4 | 2.0l I4 T (220-bhp) | SM6 | AWD | 24/31/27 | 69 | $43,700 |
| S3 sedan Premium Plus | 3 | 2.0l I4 T (292-bhp) | SM6 | AWD | 22/28/25 | 67 | $38,200 |
| S3 sedan Prestige | 4 | 2.0l I4 T (292-bhp) | SM6 | AWD | 22/28/25 | 67 | $48,950 |
| A3 Sedan RS 3 | 3 | 2.5l I5 T (400-bhp) | SM7 | AWD | 19/28/23 | 77 | $54,900 |
Similar Vehicles
Reviews
Videos
Model History