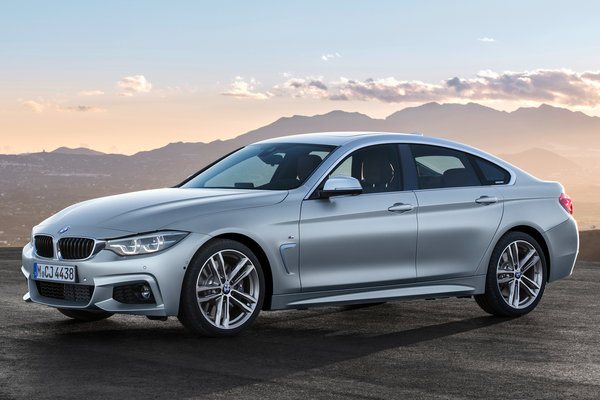 At a Glance
| | |
| --- | --- |
| Pricing | $42,200 - $50,500 |
| Drive Types | RWD, AWD |
| Engines | 2.0l I4 T, 3.0l I6 T |
| Transmissions | A8 |
| Fuel Economy | 21-24 (city), 31-34 (highway) |
Our Ratings
| | |
| --- | --- |
| Velocity Index | 74 |
| Style | |
| Utility | |
| Livability | |
| Value | |
| Fun | |
Overview Information
The BMW 4-Series Gran Coupe is a four-door coupe model closely related to the 3-Series sedan. The Gran Coupe has a sleeker roofline with a hatchback for cargo access. Powertrain choices include a four-cylinder (430i) and a six-cylinder (440i). Both are available with RWD or BMW's xDrive AWD system. The Gran Coupe is now part of a larger family of vehicles including the 3-Series sedan/wagon, 4-Series coupe/convertible, 3-Series Gran Turismo five-door, and also the X4 crossover fastback.
What Changed:
The 4-series receives a revised suspension, LED headlamps, LED tail lamps, and subtle styling updates for the 2018 model year.
Official Word:
Endowed with an aesthetic appeal and dynamic flair all of its own, the BMW 4 Series has stood out with its supremely assured and stylish air ever since its launch. A total of nearly 400,000 sales worldwide (up to the end of 2016) is testimony to the tremendous allure of the BMW 4 Series, whose story began in 2013 with the arrival of the BMW 4 Series Coupe. The following year, it was joined by the...Read.
| Model/Trim/Package | EL | Engine | | | MPG | VjI | Base Price |
| --- | --- | --- | --- | --- | --- | --- | --- |
| 4-Series Gran Coupe 430i | 2 | 2.0l I4 T (248-bhp) | A8 | RWD | 24/34/28 | 68 | $42,200 |
| 4-Series Gran Coupe 430i xDrive | 2 | 2.0l I4 T (248-bhp) | A8 | AWD | 23/33/28 | 70 | $44,200 |
| 4-Series Gran Coupe 440i | 2 | 3.0l I6 T (320-bhp) | A8 | RWD | 21/32/26 | 72 | $48,500 |
| 4-Series Gran Coupe 440i xDrive | 2 | 3.0l I6 T (320-bhp) | A8 | AWD | 21/31/26 | 74 | $50,500 |
Similar Vehicles
Reviews
Videos
Model History