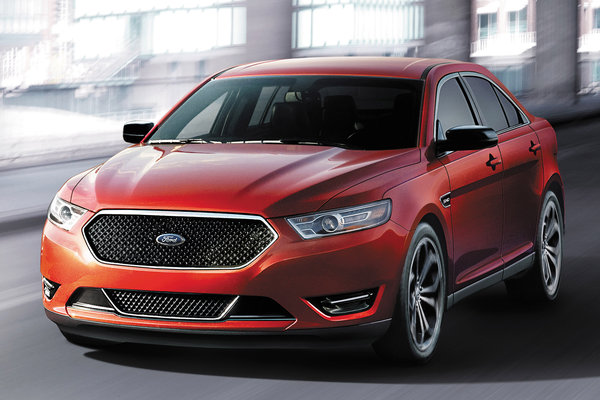 At a Glance
| | |
| --- | --- |
| Pricing | $27,595 - $42,770 |
| Drive Types | FWD, AWD |
| Engines | 3.5l V6, 3.5l V6 T |
| Transmissions | A6 |
| Fuel Economy | 16-18 (city), 24-27 (highway) |
Our Ratings
| | |
| --- | --- |
| Velocity Index | 63 |
| Style | |
| Utility | |
| Livability | |
| Value | |
| Fun | |
Overview Information
After twenty plus years on the market, the Taurus has clearly reached legendary status. The Taurus was once the best seller in its segment and remained a top seller for Ford even as Ford neglected the model for many years. In 2008, the underappreciated Ford Five Hundred was renamed Taurus setting the stage for the best Taurus in many years. The Taurus is a large sedan with plentiful legroom and headroom in the first and second rows. A 288-bhp V6 has sufficient power for quick acceleration with respectable fuel economy. The Taurus is FWD, but also offers AWD for increased traction. The latest model features a lengthy list of safety, technology and luxury features, many of which are standard equipment. The Taurus once again offers a high-performance SHO model. The Taurus SHO equips a 365-bhp turbocharged V6 for more power and AWD to put it to the road.
What Changed:
The 2.0l four-cylinder has been dropped.
Official Word:
The 2014 Ford Taurus delivers more of what large sedan customers really want: fuel economy, more technology, design refinement, improved craftsmanship and enhanced driving dynamics. A choice of engines offers customers increased fuel economy without compromising the responsive performance they want. Taurus was the first car in Ford's North American lineup to offer the advanced 2.0-liter EcoBoost(R) engine. Ideal for full-size sedan buyers seeking maximum fuel economy without sacrificing performance, this advanced engine combines direct injection...Read.
| Model/Trim/Package | EL | Engine | | | MPG | VjI | Base Price |
| --- | --- | --- | --- | --- | --- | --- | --- |
| Taurus SE | 2 | 3.5l V6 (288-bhp) | A6 | FWD | 18/27/22 | 60 | $27,595 |
| Taurus SEL | 2 | 3.5l V6 (288-bhp) | A6 | FWD | 18/27/22 | 60 | $30,025 |
| Taurus SEL Leather | 3 | 3.5l V6 (288-bhp) | A6 | FWD | 18/27/22 | 60 | $31,520 |
| Taurus SEL | 2 | 3.5l V6 (288-bhp) | A6 | AWD | 17/24/20 | 54 | $31,875 |
| Taurus SEL Leather | 3 | 3.5l V6 (288-bhp) | A6 | AWD | 17/24/20 | 54 | $33,370 |
| Taurus Limited | 3 | 3.5l V6 (288-bhp) | A6 | FWD | 18/27/22 | 63 | $37,105 |
| Taurus Limited | 3 | 3.5l V6 (288-bhp) | A6 | AWD | 17/24/20 | 57 | $38,955 |
| Taurus SHO | 3 | 3.5l V6 T (365-bhp) | A6 | AWD | 16/24/20 | 61 | $42,770 |
Similar Vehicles
$28,995 - $40,995

$28,495 - $67,995
Reviews
Videos
Model History