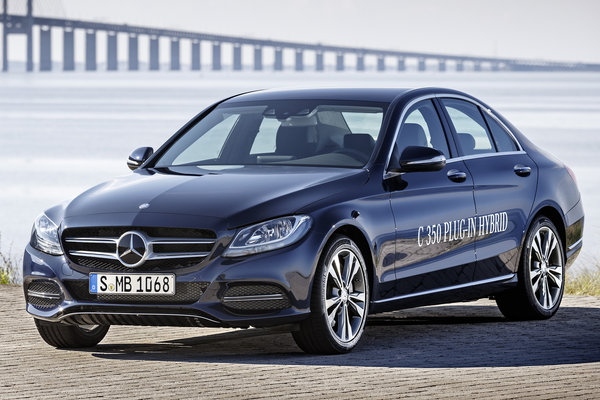 At a Glance
| | |
| --- | --- |
| Pricing | $40,250 - $73,700 |
| Drive Types | RWD, AWD |
| Engines | 2.0l I4 HEV, 2.0l I4 T, 3.0l V6 T, 4.0l V8 T |
| Transmissions | A7, A9, SM7 |
| Fuel Economy | 18-24 (city), 24-33 (highway) |
Our Ratings
| | |
| --- | --- |
| Velocity Index | 81 |
| Style | |
| Utility | |
| Livability | |
| Value | |
| Fun | |
Overview Information
Mercedes-Benz long-running compact series, the C-Class was redesigned for the 2015 model year. A variety of powertrains are offered including 4-cylinder, 6-cylinder and 8-cylinder engines. The model range also includes the C350e Plug-in hybrid. The C-Class lineup in the US also includes a coupe and convertible.
What Changed:
A 9-speed automatic replaces the 7-speed in C300 models. A sunroof is now standard.
Official Word:
Driving Performance - the AMG brand promise and the typical character traits can now be experienced by an even broader target group. The new C450 AMG 4MATIC expands the product range of the performance and sports car brand of Mercedes-Benz with another new AMG sports model. As an attractive entry into the world of AMG, the C450 AMG 4MATIC combines a 362 horsepower 3.0-liter twin-turbo V6 engine with a permanent Performance all-wheel-drive system and sophisticated suspension...Read.
| Model/Trim/Package | EL | Engine | | | MPG | VjI | Base Price |
| --- | --- | --- | --- | --- | --- | --- | --- |
| C-Class C300 | 2 | 2.0l I4 T (241-bhp) | A9 | RWD | 24/33/28 | 72 | $40,250 |
| C-Class C300 4MATIC | 2 | 2.0l I4 T (241-bhp) | A9 | AWD | 23/32/27 | 74 | $42,250 |
| C-Class C350e Plug-in | 2 | 2.0l I4 HEV (275-bhp) | A7 | RWD | | 69 | $47,900 |
| C-Class AMG C43 | 2 | 3.0l V6 T (362-bhp) | A9 | AWD | 20/27/23 | 78 | $53,400 |
| C-Class AMG C63 | 2 | 4.0l V8 T (469-bhp) | SM7 | RWD | 18/24/21 | 81 | $66,100 |
| C-Class AMG C63 S | 3 | 4.0l V8 T (503-bhp) | SM7 | RWD | 18/24/21 | 81 | $73,700 |
Similar Vehicles
Reviews
Videos
Model History