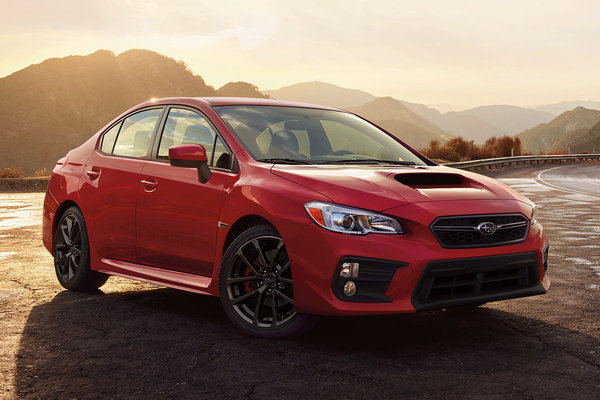 At a Glance
| | |
| --- | --- |
| Pricing | $26,995 - $48,995 |
| Drive Types | AWD |
| Engines | 2.0l H4 T, 2.5l H4 T |
| Transmissions | CVT, M6 |
| Fuel Economy | 17-21 (city), 22-27 (highway) |
Our Ratings
| | |
| --- | --- |
| Velocity Index | 76* |
| Style | |
| Utility | |
| Livability | |
| Value | |
| Fun | |
Overview Information
As an all-around performance value, it's hard to beat the AWD Subaru WRX. Loosely based on the Impreza, the WRX is powered by one of two turbocharged horizontally-opposed four-cylinder engines. The 2.0l engine is rated at 268-bhp, whereas the 2.5l is rated at 305-bhp. Most models equip a 6-speed manual, but a CVT is now offered on some models. The sophisticated AWD drivetrain allows the WRX to provide all weather performance and handling.
What Changed:
Redesigned front bumper with larger lower opening. Revised LED headlamps on Limited and WRX STi trim levels. STi models include revised Brembo brakes with larger vented discs.
Official Word:
Subaru of America, Inc. debuts 50th Anniversary Edition for each vehicle in its 2018 line-up at the Chicago Auto Show. The limited edition models are based on a high-level trim and come in an all-new exclusive color with unique badging and exterior and interior accents. Production quantities will be limited to 1,050 for Crosstrek, Forester, Impreza, Legacy and Outback, while WRX, STI and BRZ will have a combined total of 1,050. The Anniversary editions celebrate the...Read.
| Model/Trim/Package | EL | Engine | | | MPG | VjI | Base Price |
| --- | --- | --- | --- | --- | --- | --- | --- |
| WRX | 2 | 2.0l H4 T (268-bhp) | M6 | AWD | 21/27/24 | 74 | $26,995 |
| WRX Premium | 2 | 2.0l H4 T (268-bhp) | M6 | AWD | 21/27/24 | 74 | $29,295 |
| WRX Premium | 2 | 2.0l H4 T (268-bhp) | CVT | AWD | 18/24/21 | 69 | $30,495 |
| WRX Limited | 2 | 2.0l H4 T (268-bhp) | M6 | AWD | 21/27/24 | 74 | $31,595 |
| WRX Limited | 2 | 2.0l H4 T (268-bhp) | CVT | AWD | 18/24/21 | 69 | $32,795 |
| WRX STI | 2 | 2.5l H4 T (305-bhp) | M6 | AWD | 17/22/19 | 76 | $36,095 |
| WRX STI Limited | 3 | 2.5l H4 T (305-bhp) | M6 | AWD | 17/22/19 | 72 | $40,895 |
| WRX STI Type RA | 2 | 2.5l H4 T (310-bhp) | M6 | AWD | 17/22/19 | | $48,995 |
Similar Vehicles
Reviews
Videos
Model History